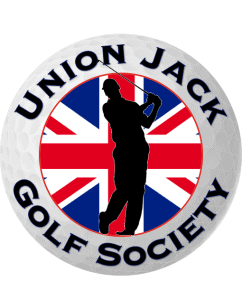 Union Jack Golf society was re-formed as of November 2020. We are a Golf Society run by golf enthusiasts in Benidorm offering you discounted green fees at the lowest prices available. We play once a week and can also offer transfers and club hire for any guests if needed. Membership is open to anyone wanting to get out and play quality golf in the area with good banter and friendly members. The union Jack Golf Society operate a handicap tracker aligned to the World Handicap System that will give you a handicap after you have played just 3 rounds with us. Our members handicap index' range from 5.0 up to 35.0 with an average of 18.7 so you can be guranteed a good quality of golf when playing with our group. The Union Jack Golf Society plays once a week on a Monday. To Join us just get in touch with Allan Cain and he will add you to the society invites. The society run a weekly competition costing €5 per player which consists of an overall winners prize plus nearest the pin competitions. The society also run a number of on going leagues with winners being announced with there trophy or prizes presented at the annual presentation golf & diner event. Join our Facebook group to keep up to date on events and fixtures along with a bit of friendly banter.
Union Jack Golf Society - Latest Results and updated Leagues
Latest Round Played Results:
Race to 500 Points
First Player to score an aggregate of 500 points wins the prize. The more you play the more you score! €10 to enter.
Best 4 Rounds Aggregate
The best 4 rounds over the past 12 months combined score.
Most Improved Player
The Player thad has reduced there handicap by the most shots over the past 12 months
Most Consistent Player
The Player with the highest average score over the past 12 months
The Player that has won the most nearest to the pin prizes

Each time a player wins a nearest to the pin they receive €5.
Player that has won the most prize money

Players win prize money for coming 1st or 2nd