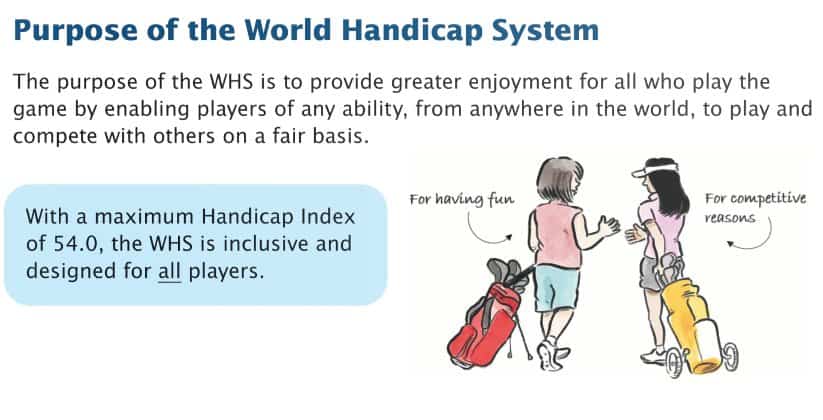 The World Handicap System Introduction
The World Handicap System (WHS) was launched in January 2020 and will provide golfers with a unified and more inclusive handicapping system for the first time. The World Handicap System was launched officially in to Europe on the 2nd November 2020 and is now used by Union Jack Golf Society in Benidorm to calculate our members handicaps.
Developed by The R&A and USGA in close coordination with existing handicapping authorities, the WHS will provide all golfers with a consistent measure of playing ability, with handicaps calculated in the same way wherever they are in the world.
A key objective of the initiative was to develop a modern system, enabling as many golfers as possible to obtain and maintain a Handicap Index. Golfers will be able to transport their Handicap Index globally and compete or play a casual round with players from other regions on a fair basis. It will also indicate the score a golfer is reasonably capable of achieving the next time they go out to play.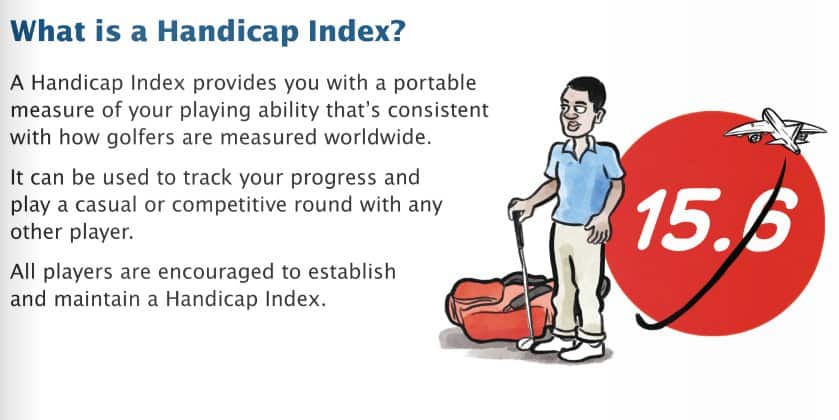 Why the move to The World Handicap System?
Golf already has a single set of playing Rules, a single set of equipment Rules and a single set of Rules of Amateur Status governed by the USGA and The R&A.  Yet, today there are six different handicap systems used around the world.  Each is well developed and successfully provides equity for play locally, but each of the different systems produces slightly differing results when calculating players' handicaps.  The World Handicap System will unify these six existing systems into a single system that will:
enable golfers of different abilities to play and compete on a fair and equal basis, in any format, on any course, anywhere around the world;
be easy to understand and implement, without sacrificing accuracy; and
meet the varied needs and expectations of golfers, golf clubs and golf authorities all around the world and be adaptable to suit all golfing cultures.
The WHS will encompass both the Rules of Handicapping and the Course Rating System (formerly known as the USGA Course Rating and Slope System).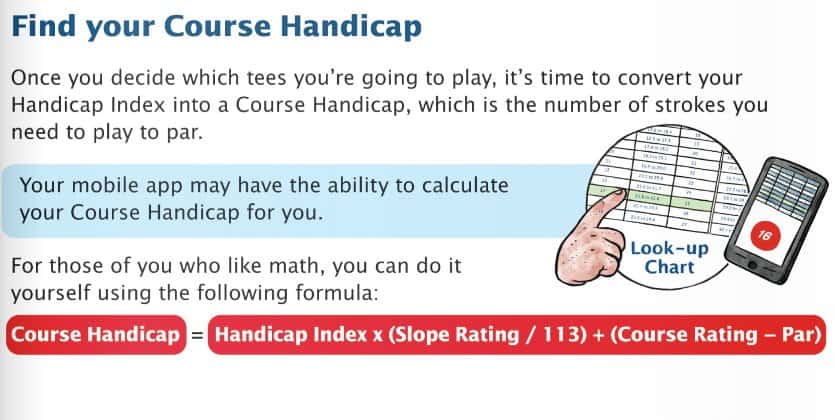 Calculating your playing handicap
Golfers will now be assigned what is known as a Handicap Index. This index is now assigned after submitting just 3 rounds of golf . This Handicap Index is now your portable index that you can calculate your playing Handicap from on any course in the world depending on the Course Slope and the Course rating, sometimes known as the course standard scratch score (SSS).
The calculation to work out your playing Handicap for the day on any course is:
Handicap Index x (Slope Rating/113) + (Course Rating- Par)
Most courses will now have handicap index conversion boards published in the club house for you to easily convert your handicap index to your playing handicap for that course.
Calculating your Handicap Index
So it is all well and good knowing how to calculate your playing handicap for a given course on the day, but the question still remains as to how you calculate your Handicap Index in the first place. You can sign up with a club or online and submit your scores for someone else to calculate this for you, but there is always a charge for this, and why should you have to pay just so that you can work out your handicap index? At Union Jack Golf Society we have created a spreadsheet for all of our members that automatically calculates each members handicap index and playing handicap, but it was a week long full time project to create this spreadsheet with many calculations having to be made.
At a high level your handicap index is calculated based on the average of the best 8 of your last 20 rounds. it is not as simple as the submission of your submitted gross scores though as the WHS handicap index states you can only submit a score on each hole of double nett bogey as a maximum score. This is a familiar format to those familiar with the Stableford format where a double nett bogey results in a score of 0 and anything greater than this is also 0 points. So for example If a player is allocated one stroke on a par 5 hole, the maximum hole score is 5+1+2=8. And 8 is the max score that can be used in calculating your handicap differential that then goes in to calculating your handicap index.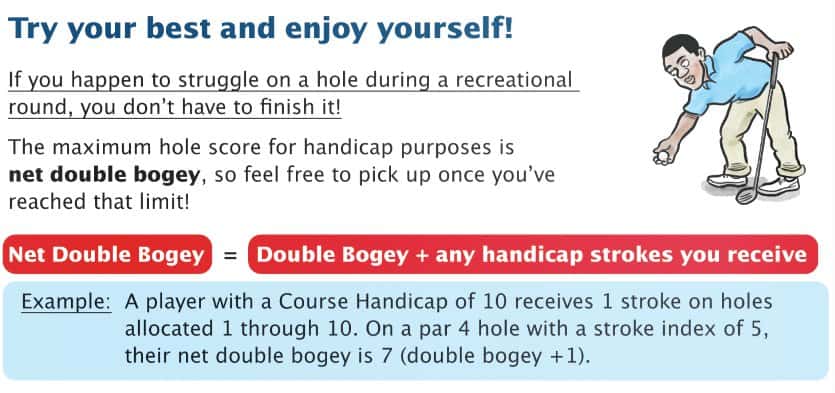 An initial handicap index can now be calculated after scores for just 54 holes of play are posted, including any combination of 18-hole and 9-hole rounds. Until a player has a "fully developed" handicap based on twenty 18-hole equivalents, WHS specifies the number of best scores (differentials) to be averaged, ranging from one to eventually eight after twenty rounds are posted
Handicap indexes are revised after every score posted, which is a significant change for golfers using the USGA or R&A system and today accustomed to a twice monthly revision cycle. These golfers will be encouraged to post scores immediately after each round (on the same day), but the system will still allow for posting scores for rounds played on dates in the past.
A Playing Conditions Calculation (PCC) can also be applied to the handicap differential you are assigned after your round on any given day. The PCC is meant to adjust your differential based on how difficult the course conditions where on the day. For example if mthe averages of scores on the day where lower than expected then the course conditions are deemed to be playing difficult for the day and this can be due to varying weather conditions or tough pin positions etc. In this case the handicap differentials for all players on the day are adjusted to compensate for the conditions. For this to happen more than 8 players need to have submitted a score on that given day.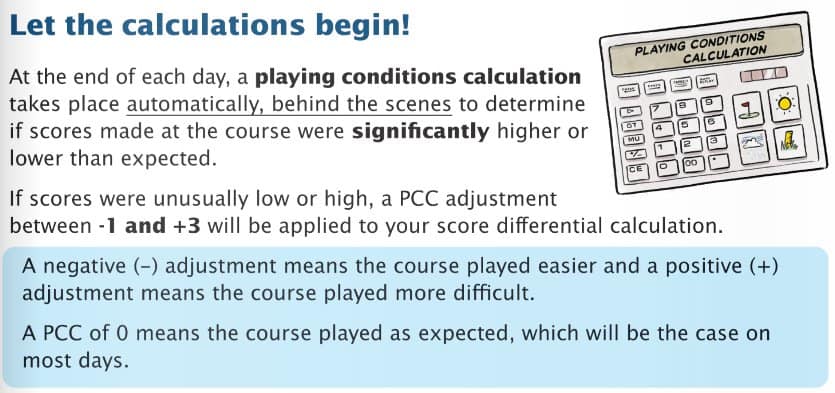 There are many resources on the internet to help you calculate your handicap index. None of them are straight forward to understand if calculating it yourself. See the R&A page or USGA Page for more information and informative videos on how to proceed to calculate your index and playing handicap. The easiest way is to join a club or a society that is capable of calculating your handicap index on your behalf. There are not many golf societies at the moment capable of calculating your handicap index for you and therefore most are charging their members to use on line tracking software. At Union Jack Golf Society we don't charge our members anything to calculate and track their handicap index. This is one of the reasons we are the number one golf society in Benidorm and possibly in Spain.