Golf Guide - All you need to know before you book
In this Benidorm Golf Guide we highlight why Benidorm has become a firm favourite golf holiday destination over the past 10 years and it continues to grow in popularity with some of the best courses in Spain on its doorstep combined with the best value holiday destination in Europe. Benidorm truly has something to offer everyone which makes it a great location for playing golf in Benidorm. There is the strip offering all of the British bars with beers from as little as 1 Euro a pint or there is the old town at the other end of the beach offering traditional tapas bars where you can enjoy a glass of crisp cold white wine with tapas for less than 2 Euros. The cost of your golf holiday green fees are only a small part of the total cost of your golf holiday so remember when choosing a destination look at the overall cost. Benidorm is truly great value, especially when compared to the likes of Portugal where your bar bill will be twice what you paid for your golf holiday!
In this guide we will walk you through the courses that are available in Benidorm. We will show you how to book and how to get to the courses. We will also touch on some of the better hotel options to book along with a review of the night time venues your golf party can retire to after a day on the fairways.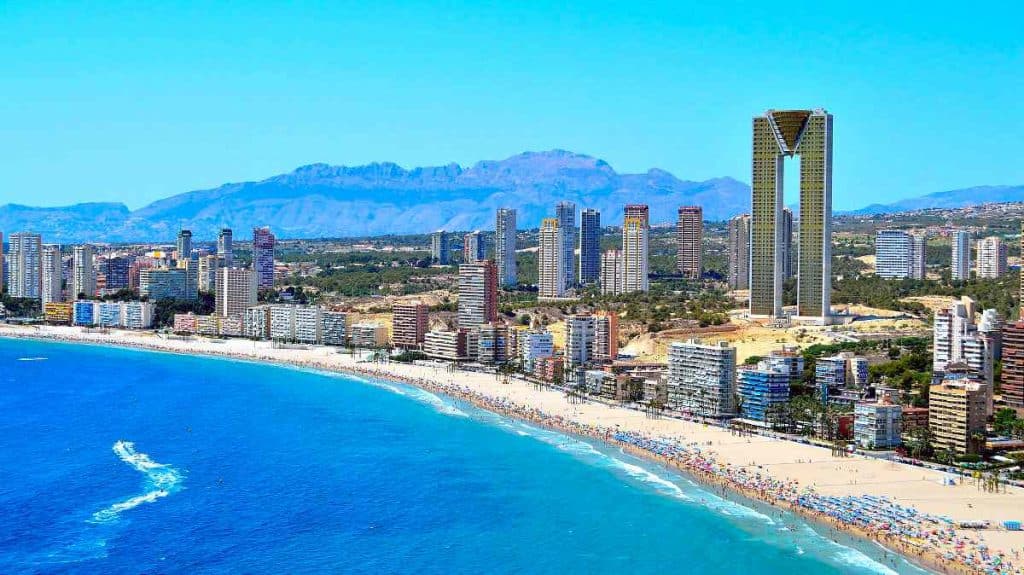 The first thing to know is that Benidorm is serviced via Alicante Airport. There are many low cost options to get to Alicante airport with Ryanair, Easyjet and Jet2 amongst the best known names that fly in to Alicante.
Alicante Airport is approx' a 40 minute transfer to Benidorm and there are various options that you can choose to get from the Airport to Benidorm.
The Bus – If you are on a budget then there is a bus that runs every hour from the airport main terminal to Benidorm centre. The bus costs €9.80 each way and is the lowest cost option to get in to Benidorm from the airport. To get the bus you need to go to the top level of the airport. From there walk out of the main doors and turn right. You will see 3 bus stops, the bus that goes to Benidorm stops at the bus stop that is furthest from you. There will be a person selling tickets by the bus stop so look out for them and purchase your ticket directly from them. The bus will run every hour and you will see it states Benidorm on the front when it arrives at the stop. Just give your ticket to the driver when you get on the bus and thats it. The bus stops at Benidorm bus station which is just North of the centre of Benidorm so stay on it until it reaches its second stop in the centre of Benidorm on Avenida Europa. You will get off the bus at the junction of Av Europa and Calle Gerona. The Union Jack golf shop is just over the road from where you get off the bus. From there all of the hotels are in walking distance.
Taxi – A Taxi from Alicante airport will cost you approx €80 each way. The taxis are available outside both the arrivals and departures levels. Be sure to use a licensed taxi and don't accept approaches from any drivers inside the terminal. It is best to go to the taxi rank for a fully licensed taxi.
Shared transfer / Shuttle – There are many companies offering shared transfers to Benidorm, normally via a coach that drops you direct at your hotel. This can be a good cost effective way to get to Benidorm, but be aware you can be sitting on the coach for longer than you like as it drops other people at there hotels as well. Prices are from around €15 per person with the most popular service being run by Beniconnect.
Private Transfer – The most efficient way to get to Benidorm to start your holiday is by private transfer. A driver will meet you at arrivals in Alicante airport with your name on a board. From there he will escort you through the airport direct to your private vehicle. The size of vehicle will depend on the size of your party and the number of golf bags you have with you. The transfer will then take you direct to your hotel in Benidorm. Prices for private transfers vary depending on the size of your party and Union Jack Golf Transfers are the number 1 way to include private transfers as part of your golf holiday. Prices vary from €19 a person one way for a 4 person vehicle down to to €4.50 per person each way for a 55 seater coach.
Benidorm Golf Courses and Benidorm Golf Transfers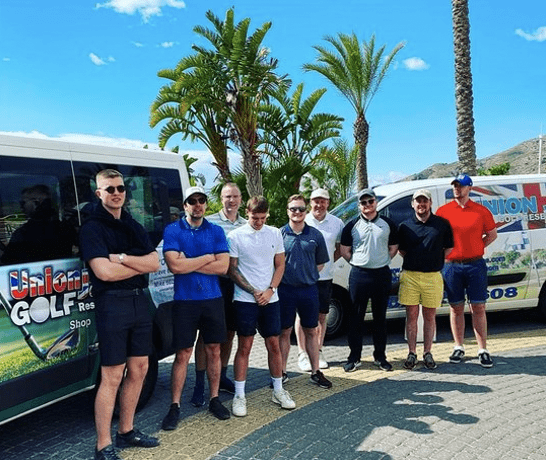 There are many golf courses to choose from all within 1 hour of Benidorm. The nearest being 10 minutes transfer from Benidorm centre. This is the fantastic Melia Villaitana golf complex hosting 2 golf course, one of which, the Championship Levante course hosted the Senior Masters Tour in 2019. The best way to book your golf whilst in Benidorm is to use a tour operator such as Union Jack Golf. The reason being is, believe it or not the price you pay to a tour operator will be far less than you pay by booking directly at the golf course as tour operators have bulk buying power to lower the prices. Plus at Union Jack Golf the staff are all from the UK but based in Benidorm so if you have any issues then they are on standby to help you out. When you book with Union Jack Golf you have the option to include return golf transfers to the courses where you will be collected at your hotel and taken to the golf course and then once your round is finished you are collected and taken back to your hotel or any bar you like in Benidorm. It really is the most stress free and cost effective way of enjoying golf in Benidorm. At Union Jack Golf the transfers available range from a fleet of dedicated Union Jack Golf mini buses up to coaches to cater for larger golfing parties. If you also want to hire golf clubs then Union Jack Benidorm Golf Club Hire has a range of clubs to choose from. It is a great way to save you the €60 airline fee and the hassle of dragging your own clubs through the airports. Take a look at our Benidorm Golf Guide below for the best of the courses in the area: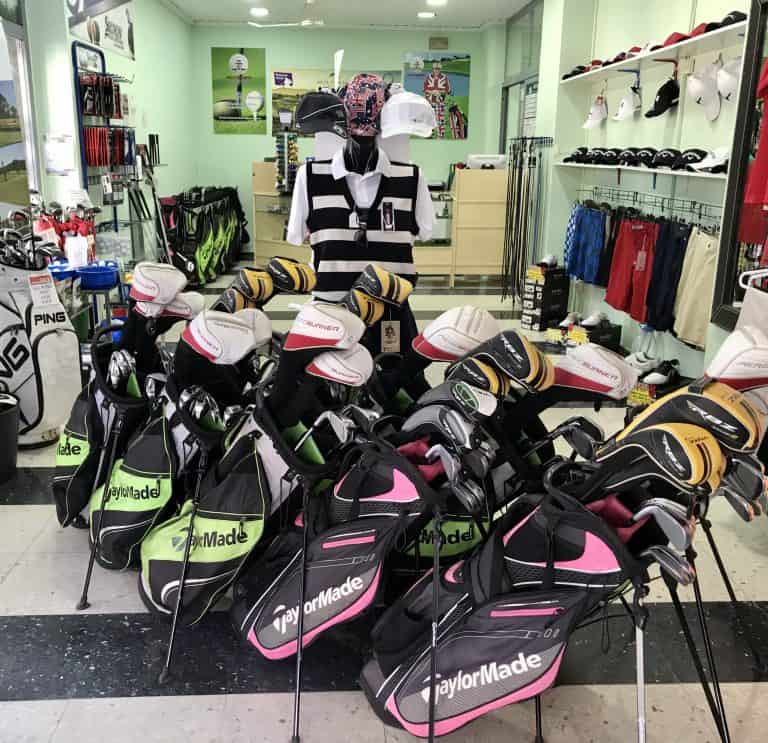 Melia Villaitana Levante - 10 Minutes from Benidorm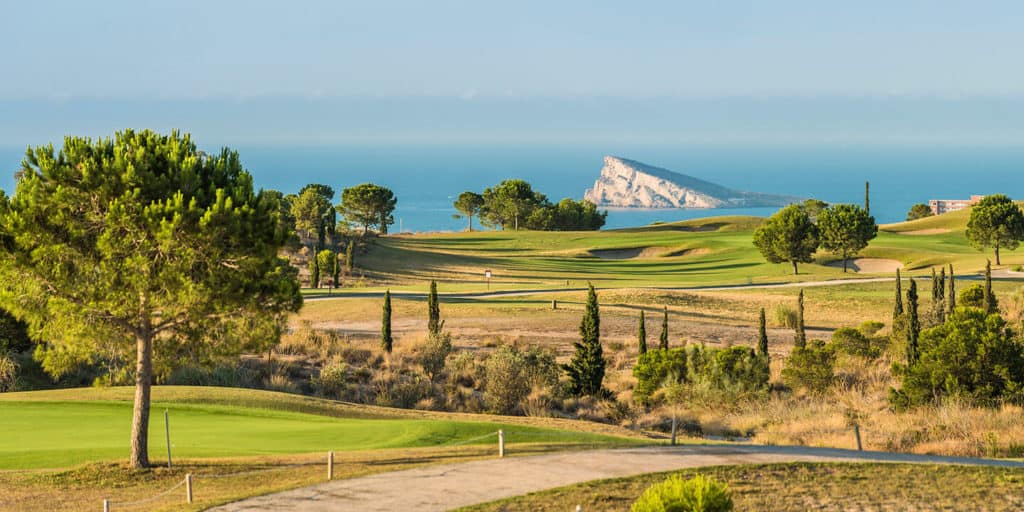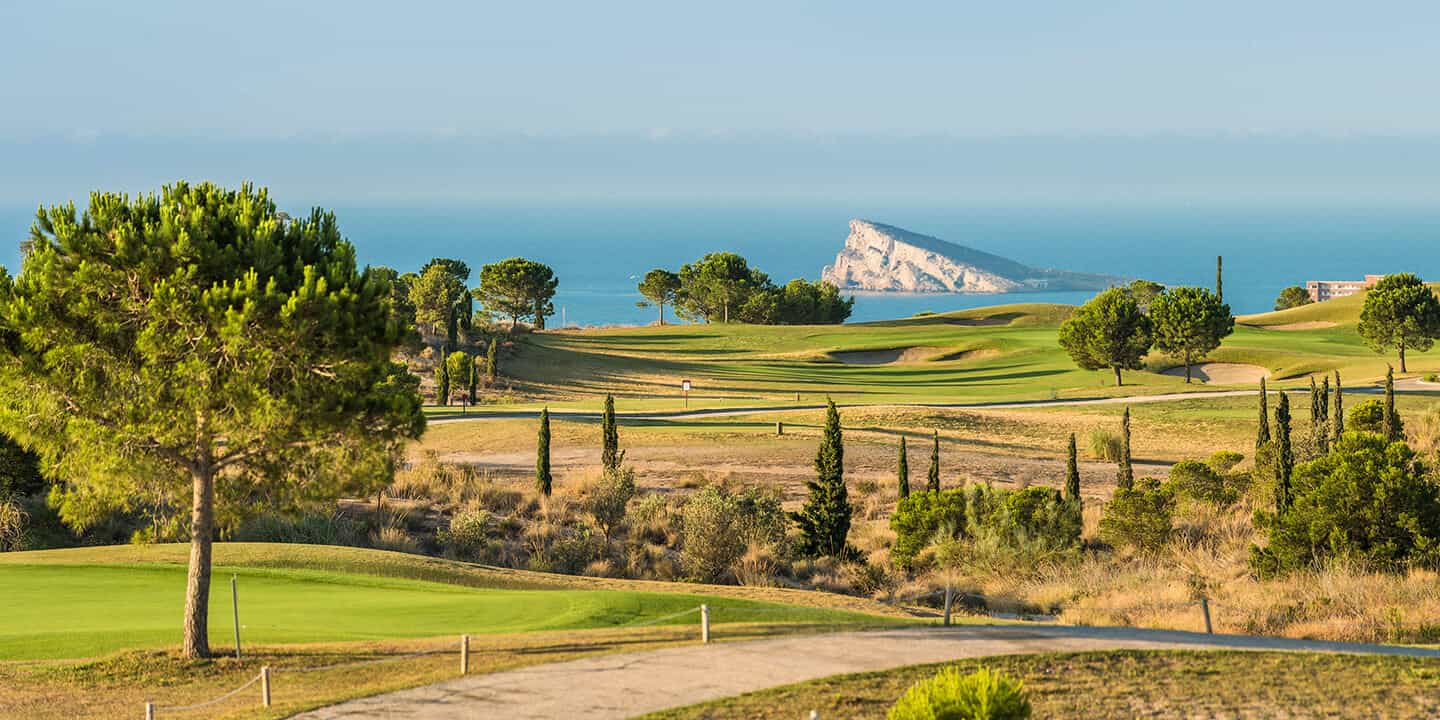 18 holes, par 72, 7297 yards. Parkland.
There is a reason this course features first in our Benidorm Golf Guide. The championship Levante course is a Jack Nicklaus design par 72 18-hole layout that measures over 7,000 yards from the back tees. It's part of the complex at Melia Villaitana and The Level at Melia Villaitana. The Levante is a US-style golf course spread out over an area of more than 80 hectares. In classic Nicklaus tradition, it features wide fairways and mounded, rolling, yet inviting putting surfaces. Stretching to more than 7,200 yards, it is a bit of a monster and offers stunning views of the Mediterranean and the Finestrat Mountains.
The views from this course are simply stunning offering a full panoramic view of Benidorm and the Mediterranean sea beyond. The fairways on this course are always manicured to perfection and you can be guaranteed a good lie, but beware if you stray off the fairway the rough is very decieving. It only looks short but if your ball hops in to the first cut it is very dense and sometimes a challenge to even find it. The fairways are wide and open in most cases though so only the most wayward shots will be in trouble. The putting surfaces are also generally very quick as they are at most courses on the Costa Blanca, so always advisable to leave yourself an uphill putt as those downhill lies can be tricky.
The signature holes on this course are in my opinion the par 4 10th hole (stroke index 1). It allows you to get the driver out as the fairway is wide open, but the second shot in to the green has a lake to the left which makes for a tricky second shot in at around 180 yards, depending on your drive distance. The par 3 7th hole is also one of the best par 3 holes on any course in Spain. It is 238 Yards from the back tees and is lake from start to finish, so you need to be accurate with this one. This and much more makes this one of the best Benidorm golf courses on the Costa Blanca
The Villaitana club house serves small tapas and cold beers on the terrace. The terrace has views over the golf course and out to the Med'. A great way to relax after a day out in the sun on the golf course.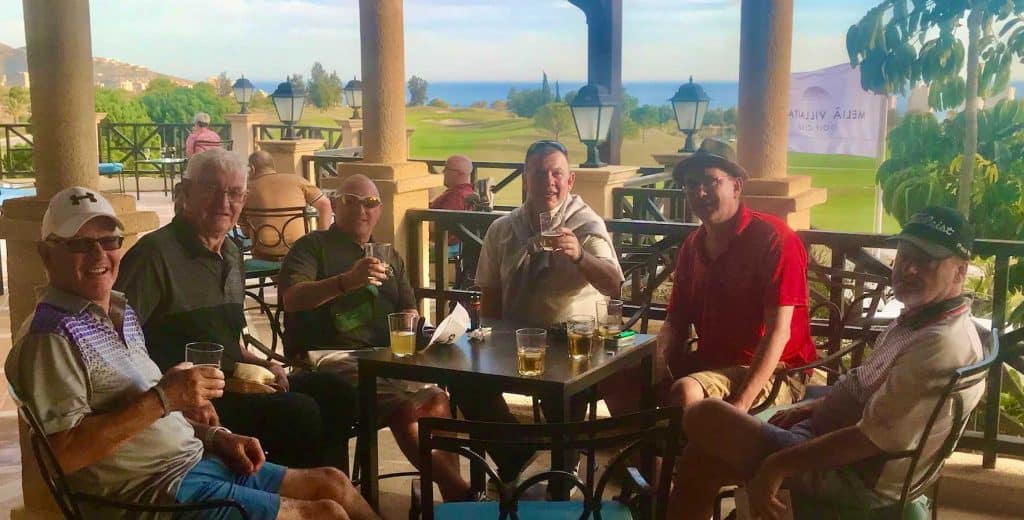 Melia Villaitana Poniente - 10 Minutes from Benidorm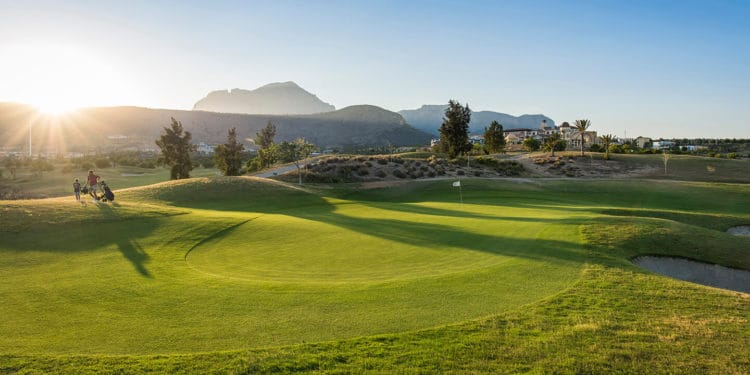 18 holes, par 62 , 4941 metres. Parkland.
Villaitana Poniente an 18 hole, par 62, 4941m, white tees, course sits alongside its championship sister Villaitana Levante overlooking Benidorm and the Mediterranean Sea at the foot of the Finestrat Mountain Range. Although shorter in length than a normal 18 hole course, Villaitana Poniente is a challenging course and will test your short game skills as it enjoys a number of truly spectacular par 3 and par 4 holes which are the equal of holes found anywhere on the golfing map.
Villaitana Poniente is suitable for all handicap levels and will provide a real challenge to all golfers and is a welcome addition to our Benidorm Golf Guide
Puig Campana - 20 Minutes from Benidorm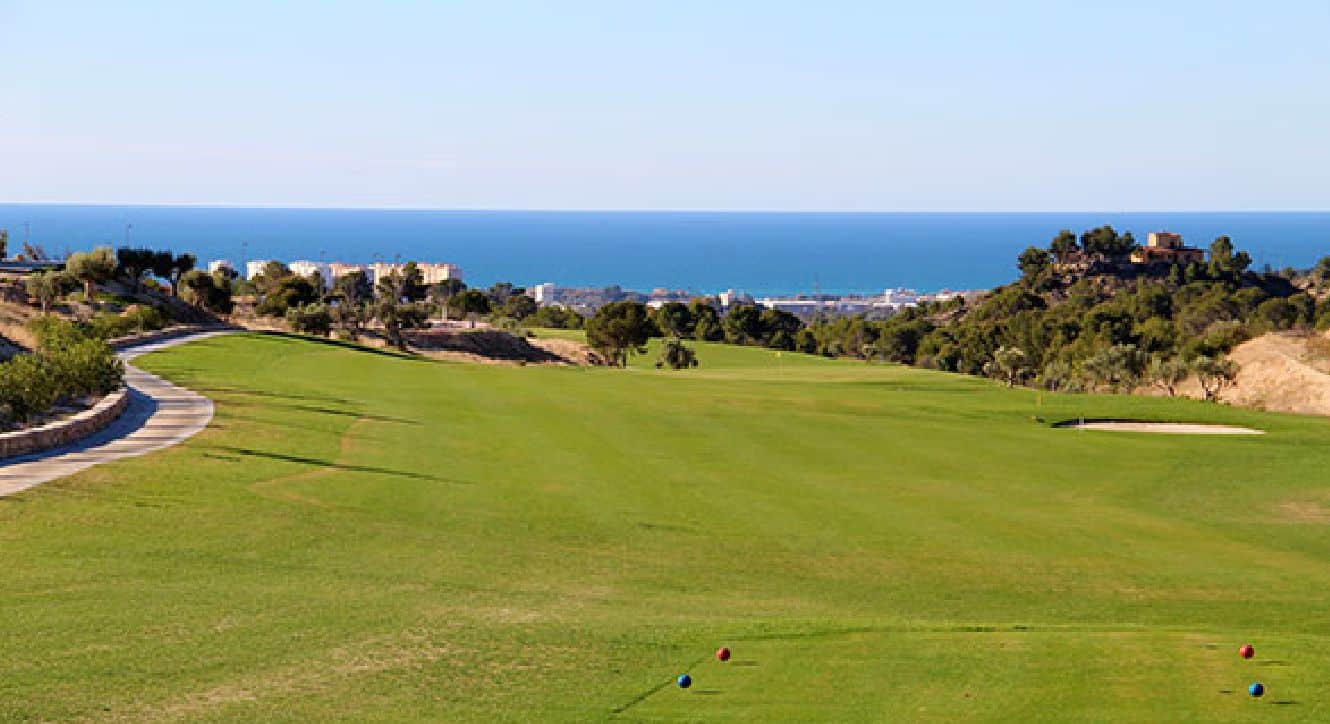 9 holes, par 72 when played x 2 
Puig Campana Golf is a 9 Hole Course (Play x 2 for par 72) designed by Sterling & Martin and is situated in the Finestrat area. The greens are large, constant and do allow for various pin positions. The fairways are closely cut and the rough is not to severe. The course has a natural terrain and the vegetation is autonomous, predominantly pine and olive trees with some carob. The views from the course are stunning with both views of the Med' and the mountains of Finestrat in the backdrop. The club house is equally as impressive and would fit in at any of the major courses across the world. The restaurant serves excellent food and the terrace overlooking the mountains is a perfect place for a cool beer after your round. Why not do 9 holes, have lunch and then do another 9 holes. This is the perfect golf day out on the Costa Blanca and only 20 minutes transfer from Benidorm making this one of the best Benidorm Golf Courses.
You will not find this course on offer with any of the other on line golf tour operators other than Union Jack Golf and is a fantastic addition to our Benidorm Golf Guide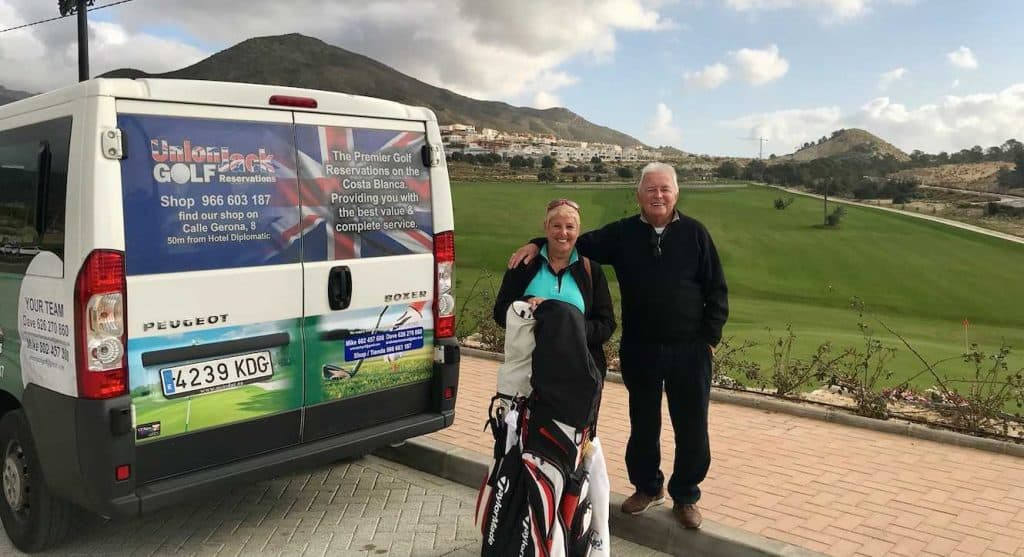 Altea Golf - 20 Minutes from Benidorm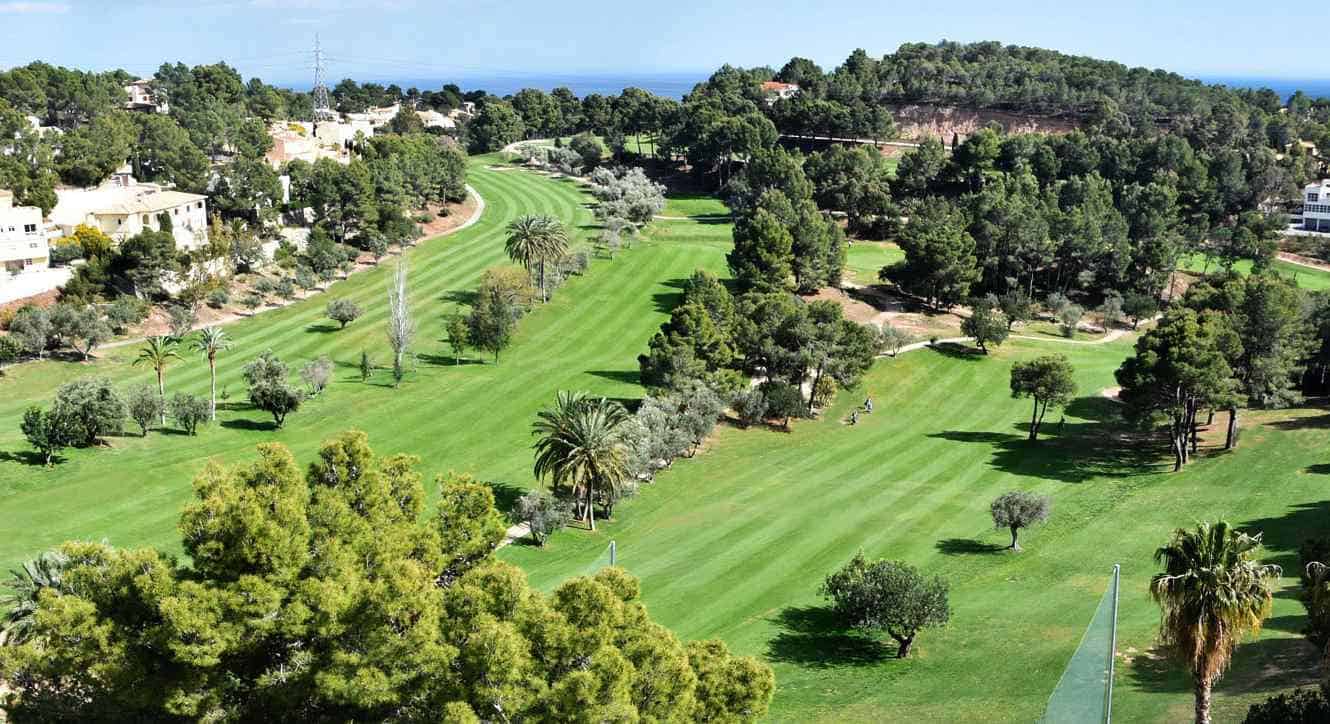 9 holes, par 72 when played x 2 
Hidden away on the lower slopes of the Sierra Bernia mountain, close to the village of Altea la Vella and only 20 minutes from Benidorm. It is the oldest and one
of the most picturesque golf courses on the Costa Blanca. It is characterised by the stunning mountain and sea views and a beautiful restaurant and terrace.
Altea Club de Golf is a par 72 course which can be played as 9 or 18 holes and is a good test for all levels of golfer. The course is one of the best 9 hole courses in Spain currently ranked at number 2 out of 98 courses justifying this course as on of the best Benidorm Golf Courses. The differing tee positions on the front 9 and back 9 give you a great test of 18 holes. 
The Jacaranda restaurant serves up some great food and curries are there speciality! The terrace bar also has views over the golf course and out to the Med'. This truly is a hidden gem and one of Benidorms best golf courses. 
Again this is one of the courses that you will not find with the bigger golf tour operators and is a fantastic addition to our Benidorm Golf Guide
Bonalba Golf - 30 Minutes from Benidorm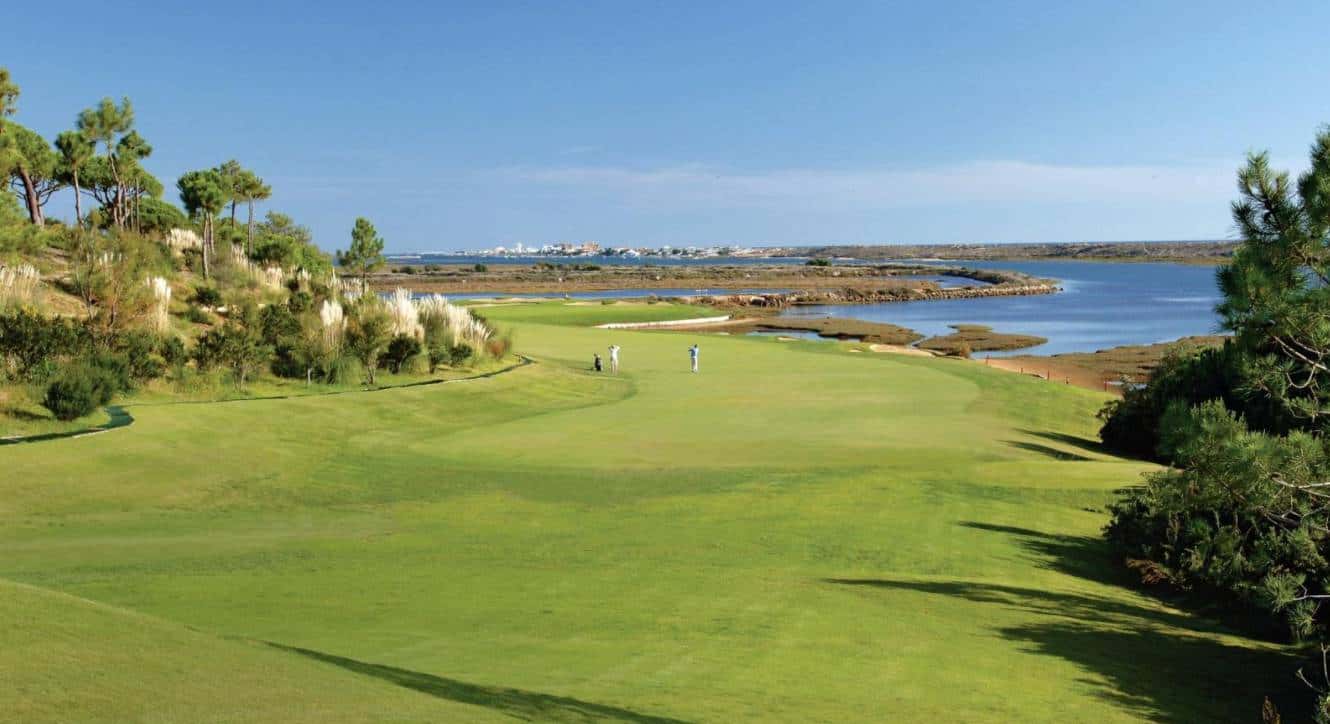 18 holes, par 72 
The first 9 holes are quite technical, as you have to avoid three of the five existent lakes. The three last holes of the front 9 can spoil even the best score card, as they are the handicap 1 (par 4), 13 ( par 3), and 3 (par 4) in the course: they called by the local golfers the "Amen Corner" of Bonalba. The back 9, being also quite technical, requires stronger strokes. It has holes where the dominant breeze from Levante makes it difficult to reach the green, normally forcing the golfers to use more "woods" than usual. On holes 16, 17, and 18, the breeze blows right into the faces of the golfers.
Alicante Golf - 45 Minutes from Benidorm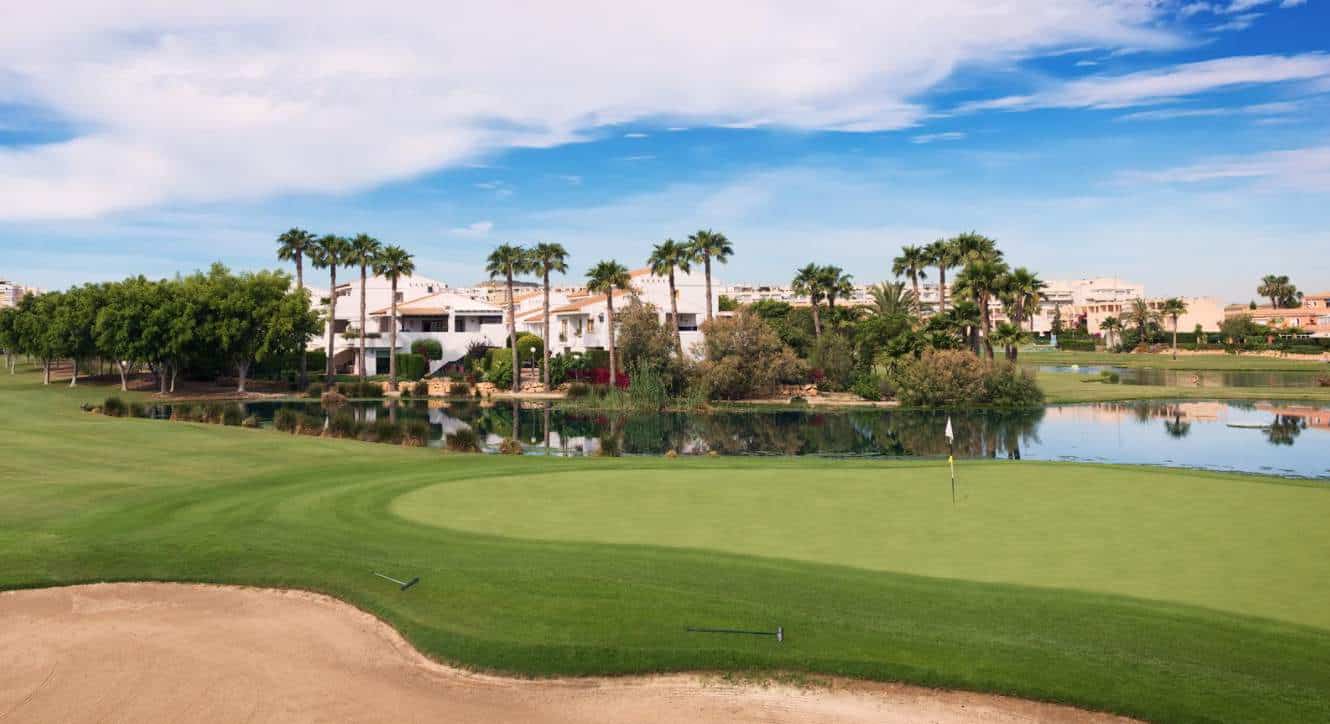 18 holes, par 72 
Designed by Spanish genius 'Seve Ballesteros', it is the only 18 hole, par 72, golf course on the Iberian Peninsula that has the configuration of 6 par 3, 6 par 4 and 6 par 5 holes. On each 9, there are no two consecutive holes with the same par, making play more interesting and producing more birdie opportunities. The design incorporates 5 large lakes, which come into play on 12 of the 18 holes, spread around the relatively level terrain that has been moulded with slight mounds and hollows. All of these characteristics add to the enjoyment and challenge of playing on a course that is a fair test for players of all levels.
El Plantio Golf - 45 Minutes from Benidorm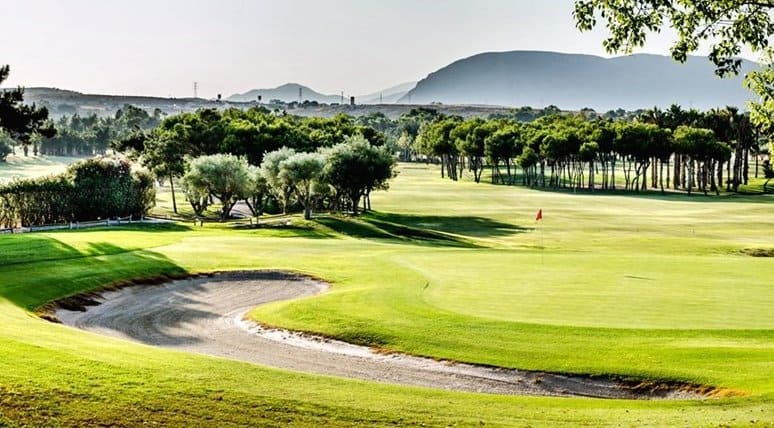 18 holes, par 72 
El Plantio Golf, which sits on the southern outskirts of the City of Alicante, is a short drive to both Alicante Airport and Elche and originally began in 1993 as a 9 hole, par 3 course. The high quality 18 hole, par 72, 6302m, white tees, main course, designed by Manuel Ferry Ruiz, was under construction at that time and opened in 2000. The 18 hole course is truly a gem in the Mediterranean, glorious fairways, undulating greens, large menacing bunkers but with its natural vegetation, fig, palm and cork trees now maturing and surrounding both fairways and greens, it has great depth and definition. The 1st hole is a difficult par 4 with a water hazard to the left of the green followed by an uphill par 5. Take a moment when finished to enjoy the views. Although some seem to think that the front 9 is the "easier" of the two, don't be fooled it requires concentration, skill and respect as any loose shot will cost you dearly. The back 9 must be taken seriously as there are numerous water hazards, waterfalls, raised greens, elevated tees, bunkers guarding greens and a mountain running alongside you on the 14th.
Alenda Golf - 50 Minutes from Benidorm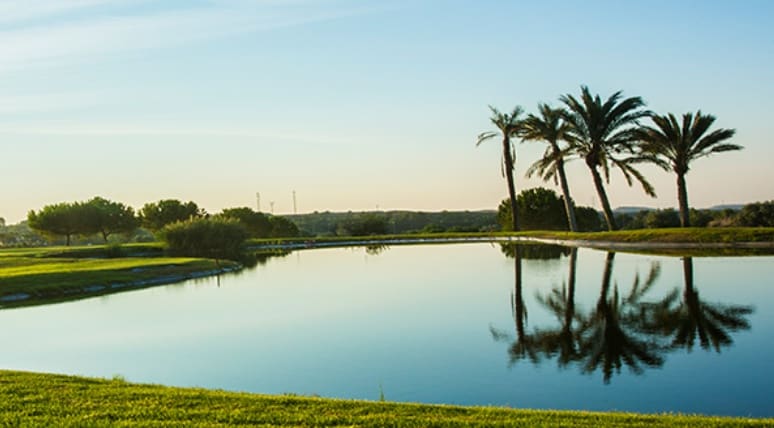 18 holes, par 72 
Alenda Golf Course, founded in 1999, was designed and built by Roland Favrat, bringing about an entertaining round for all. Onsite facilities include the Alenda Golf School featuring state of the art audio-visual computer swing analysis technology, a driving range and putting greens.
Alenda Golf Course provides a varied and enjoyable round worked in beautifully to complement the natural landscape of the area. The front nine holes focus on accuracy over strength as a result of the moderate length of each hole being contrasted by their wide fairways. As you move over to the back nine further concentration is needed, especially on the feature holes of the 16th and 18th, where you will come up against the test of mastering a range of tricky slopes across the greens. The club house at Alenda is one of the best we have ever visited in Spain!
Font Del Llop Golf - 50 Minutes from Benidorm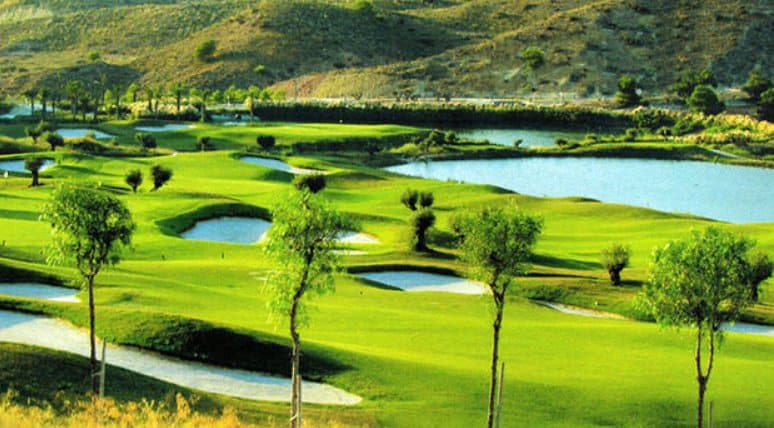 18 holes, par 72 
Founded in 2009, Font del Llop has more than come up to expectations. Designed by Blake Stirling and Marco Martín this 18 hole, par 72, 6290m, white, course is not one for the faint hearted – it will test and challenge you all the way around. Font del Llop is long and narrow, out in the open, which is refreshing, with dog-legs, strategically placed bunkers, water hazards and in a condition that belies the newness of the course. Surrounded by natural and local vegetation with beautiful panoramic views from every direction. You will receive a warm welcome from Staff when visiting this Golf Resort. This really is a hidden gem of a course and well worth the trip from Benidorm. The setting of this course is just amazing and you will not be disappointed with this one. It truly is one of Benidorms best golf courses and one of the best in Spain!
Customers of Union Jack Golf rate this course as one of the best they have ever played and is a true contender in our Benidorm Golf Guide
Benidorm Hotels - The best selection of hotels to stay in as part of your Benidorm Golf Holiday
Benidorm has more hotel rooms available than anywhere else in Europe other than London or Paris. That gives holiday makers not only a fantastic choice, but also at great value. Our Benidorm Golf Guide shows you the choices you have. Whether you want to stay in ultimate luxury on the golf course at the 5 star "The Level" at the Melia Villaitana golf complex or room only in central Benidorm then there is something to suit all budgets. When we get golfers coming to Benidorm for a golf holiday we normally find that they want to be staying in the middle of Benidorm so that the bars and restaurants are on their doorstep. That said not everyone that comes to Benidorm for golf also wants to be out on the town every night so there are other options of staying at the course or in a quieter location such as the Old town side of Benidorm where the pace of life is a little slower. Benidorm has a fantastic range of hotels to choose from and if you contact Union Jack Golf then we can advise you on the perfect hotel for your budget and preference at better prices than you will find anywhere else.
A Selection of the most popular Benidorm Golf Hotels
The Sol Pelícanos-Ocas resort is located in Benidorm, in Rincón de Loix, and only 300 m from the beautiful Levante Beach. Formed by the "Pelícanos" and "Ocas" buildings, this spectacular resort is ideal for golf holidays all year round and for discovering one of the most important tourist destinations in the Mediterranean thanks to its privileged climate, beaches and great nightlife. One of the most popular hotels and the reason it is top of the list in our Benidorm Golf Guide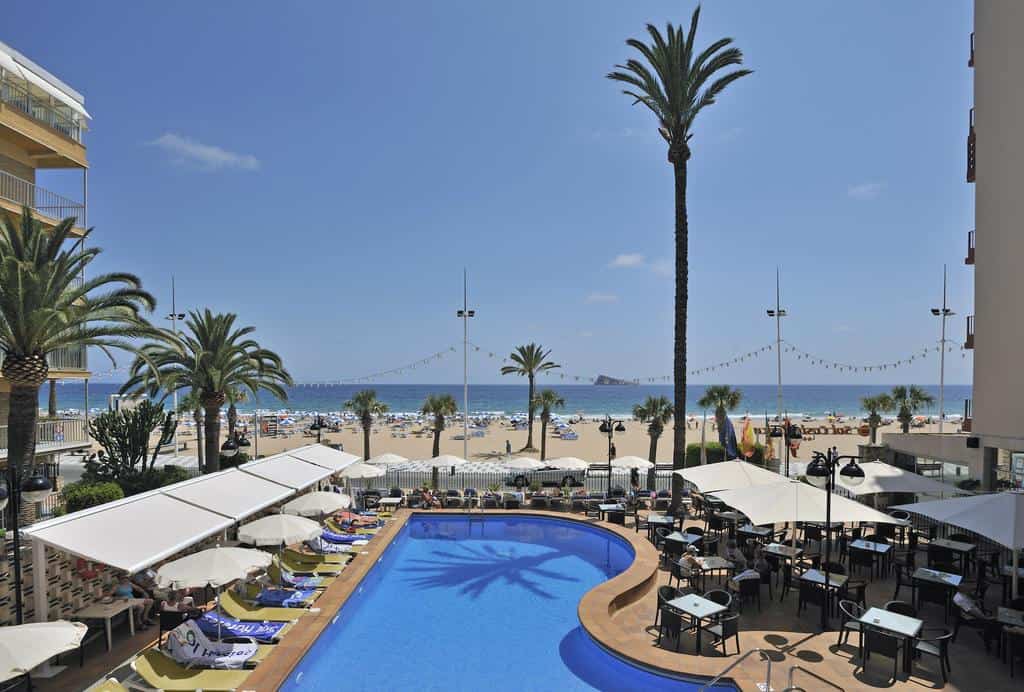 The elegant Sol Costablanca Golf Hotel is located right on the magnificent Levante beach in the shopping and entertainment heart of Benidorm (Alicante). This hotel for adults only is ideal for relaxing and unwinding with after your round of golf in an exclusive environment with magnificent sea views.
The hotel serves local and international haute cuisine, provides rooms with spectacular sea views, and an outdoor swimming pool where you can cool off after enjoying the warm Benidorm sun. A truly fantastic location and a welcome addition to our Benidorm Golf Guide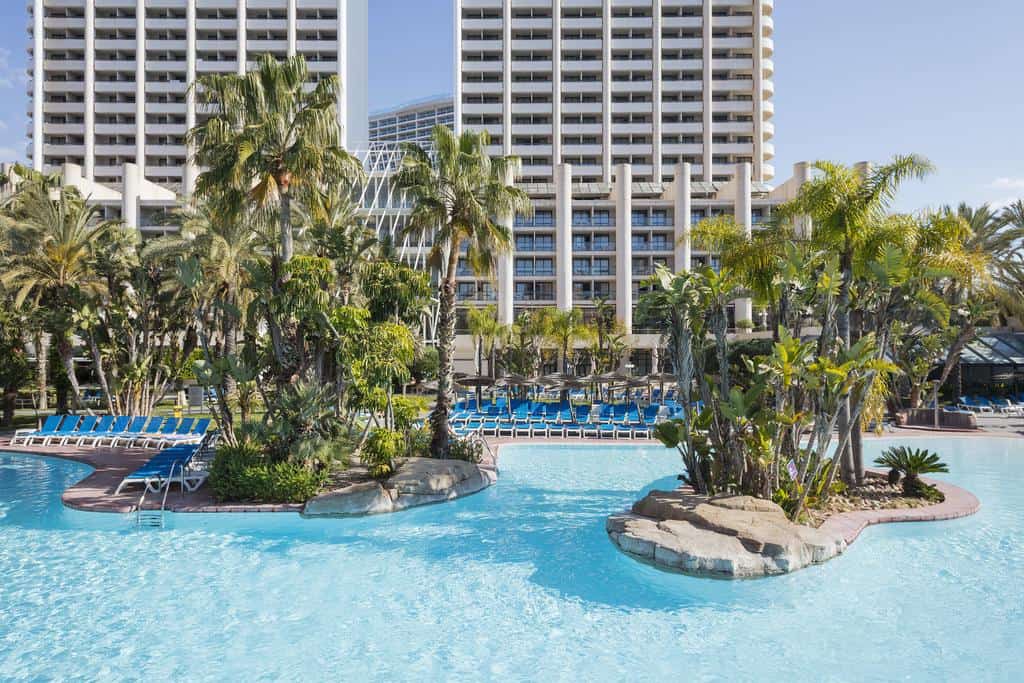 Located in the Rincon de Loix, Meliá Benidorm is the perfect choice for golfers, thanks to its excellent location in the centre of Benidorm, its extensive and comfortable facilities, and its superior quality services.
The Hotel has a spectacular lagoon-style pool set in 9,500m2 of tropical gardens which helps create an atmosphere of peace and relaxation. In addition to a second heated pool, there is also a gym, sauna and whirlpool bathtub for exercise or relaxation after a long day on the golf course.
Just 900 metres from Levante Beach and 3km from the centre of Benidorm, this modern and spacious hotel enjoys easy access to the best Benidorm has to offer.
The Hotel Agir Springs is a modern and welcoming 4 star hotel located on the Avenida Mediterraneo, just 2 minutes' walk from the Levante Beach and close to the old town of Benidorm.
The Hotel Agir Springs offers 76 comfortable, well equipped rooms which are decorated in bright, modern colours and contemporary style.  Air-conditioned Double Rooms are specially designed for couples and are fully equipped with full bathroom, Satellite TV, Free Wi-Fi.  For a special treat, try the spacious Junior Suites which also include Tea and Coffee making facilities and Mini Bar. 
The restaurant with table service, located on the fifth floor gives our guests the opportunity to enjoy an 'Al Fresco' dining experience with tables on the large sunny terrace or to dine inside – it's your choice!  There's also a bar cafeteria where you can enjoy a selection of local tapas. Recently modernised and well deserved of its place in the Benidorm Golf Guide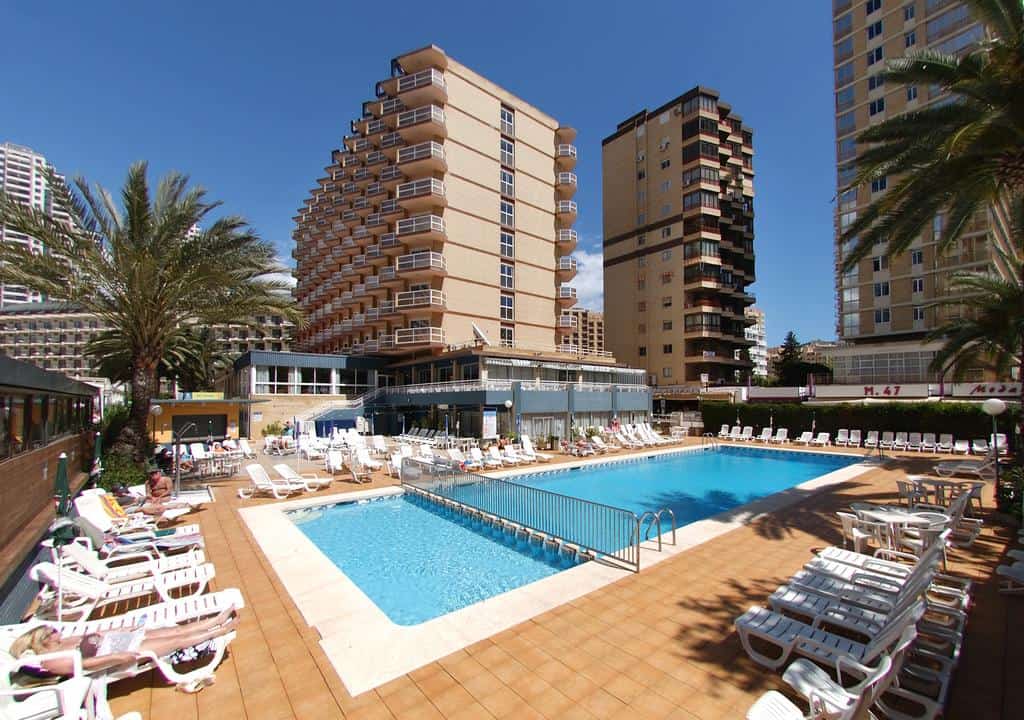 The Hotel Riudor is located in a well-connected central area of Benidorm, and only 150 meters from the Levante beach. It has a three star category and many years of experience in providing a professional service to our clients. The rooms are all equipped with a full bathroom, balcony, TV and air conditioning. There is a buffet-style restaurant which boasts a wide variety of dishes from both Mediterranean and Continental cuisines. In the evening our guests can enjoy live performances by British singers as well as dancing in the bar-lounge.
Locations do not come much better if you want to be amongst the bars and restaurants and features highly in the Benidorm Golf Guide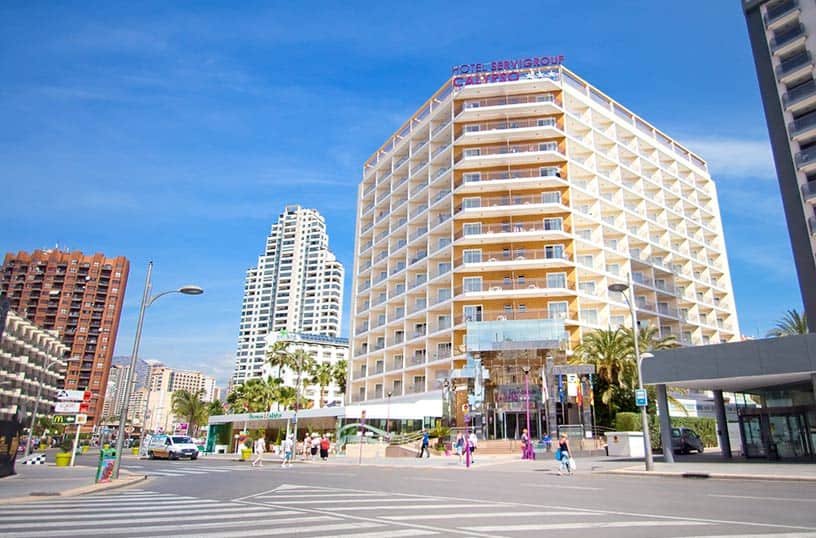 The Hotel Servigroup Calypso in Benidorm enjoys a privileged location, just 300 metres from Levante Beach, in a lively area plenty of hotels, shops, restaurants, bars, cafés…
The hotel has a big outdoor swimming pool with garden, as well as free Wi-Fi connection, which cover common exterior areas up to the extent of the signal
Due to the fact of being a good value for money and for its fantastic location, the Servigroup Calypso Hotel turns into one of the best options  if you are looking for a 3 stars superior hotel in Benidorm Levante Beach.
There are hundreds more hotels to choose from as part of your golf holiday to Benidorm. Check out a selection from Union Jack Golf with indicative prices to start planning your next golf holiday.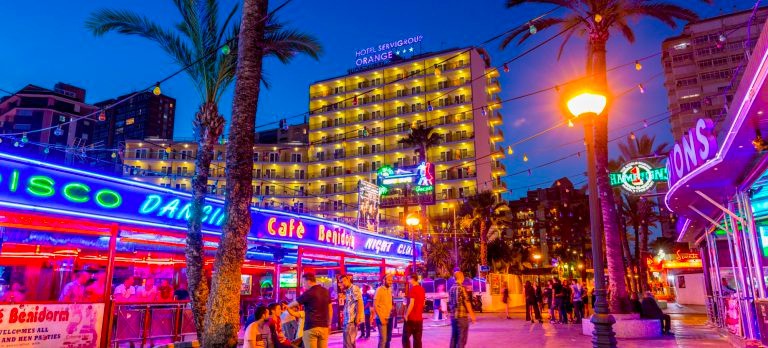 The nightlife in Benidorm is second to non in Europe. There is something to suit everyone from the endless list of British bars, Cabaret entertainment bars, traditional Spanish tapas bars along with some of the best night clubs on offer. In the Benidorm Golf Guide we also look at the off course options you have after a hard day on the fairways.
Benidorm at night is constantly buzzing. One of the city's main attractions is its nightlife, with different options to suit all. These range from varied lounge bars and a casino for older people looking for a relaxing evening, to pubs and nightclubs for younger visitors wanting to dance until dawn.
Lounge bars to visit in Benidorm at night
If you would prefer a relaxed evening, make sure you visits Benidorm's two most famous lounges:
Benidorm Palace
Benidorm Palace is an icon of Benidorm's nightlife. This show auditorium has been around since 1977 when it was the first of its kind, but now it is the oldest in the city. Here you can enjoy a dinner with a show. Options vary so you can see vedette, dance, music, magic and comedy shows that will ensure you enjoy a pleasant, fun night.
Benidorm Casino
Just a few metres away from Hotel Don Pancho, on Avenida del Mediterráneo, you will find Casino Mediterráneo Benidorm. This is a different leisure space where the greatest gaming activity is concentrated on the building's ground floor. You can try your luck with slot machines, roulette, blackjack, poker and more. A wide range of entertainment is available in Benidorm at night.
Clubbing areas in Benidorm at night
If, on the other hand, you would prefer to dance until sunrise, make sure you check out the best clubbing areas in Benidorm: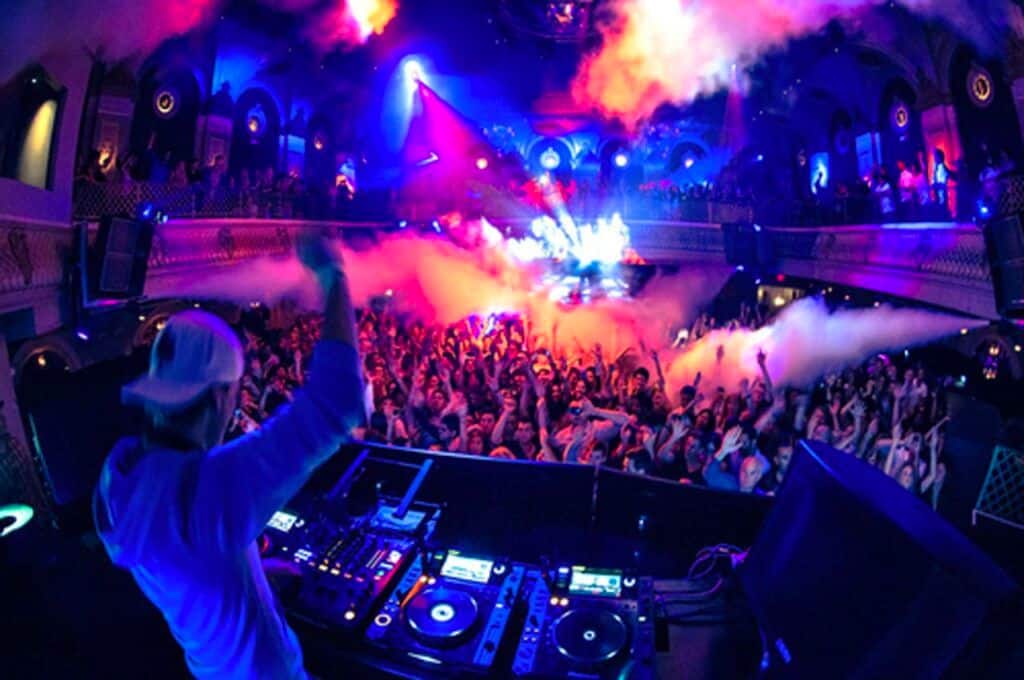 The Strip
In reality, the majority of pubs and bars are located on Calle Gerona. This is called "The Strip" it's where the majority of Uk Tourists in Benidorm congregate. It's where "pre-drinks" start, which involves a drink or several before heading off to other nightclubs. If you like different kinds of music, make sure you visit The Strip for some fun by the sea.
Old Town
If you continue towards the old town, the liveliest atmosphere can be found on Callejón de los Gatos. This narrow street heads up to San Jaime Church. Here, you will find small pubs, such as Marrs and El Callejón. If you're looking for a larger pub make sure to head to Portobello, which offers stunning sea views and is located on Carrer del Metge Don Cosme Bayona. If you seek Spanish music, try Pub La Sal, situated on Calle Costera del Barco, where the clientele are usually in their 30s.
Levante Beach
When the Callejón pubs close, continue on to Paseo de Levante. You will find Benidorm's main nightclubs close to Hotel Don Pancho, with these including KM Playa, Penélope Playa, Ku Lounge and Richard New Look Playa. Some of these are famous for being the film set of a television programme. Furthermore, entry to all of these clubs is free, and they don't usually close until 6am or 7am. However, the drink prices are higher than previously mentioned areas.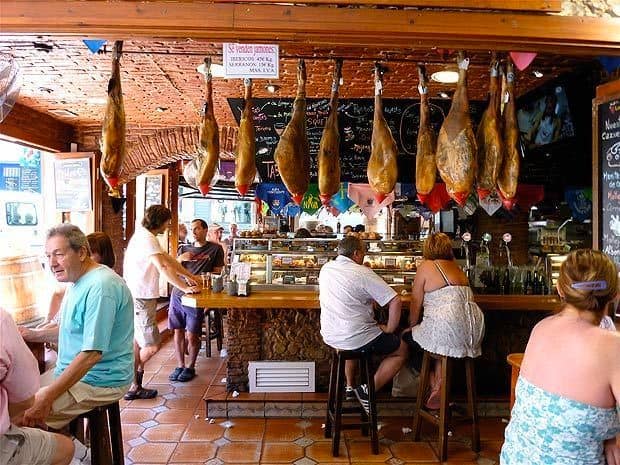 That is it for our complete guide to your next Golf Holiday to Benidorm. Trust us once you book once you will be back year after year for the best selection of golf courses and evening entertainment on offer anywhere in Europe and maybe even the world! Don't pay the inflated prices elsewhere and do not get stuck on a golf complex in the middle of nowhere in a fancy looking hotel with drab nightly entertainment every night. Benidorm really does have it all and you can book everything with Union Jack Golf and be assured you are booking at the lowest prices available.